Woollahra Group
SUSTAINABILITY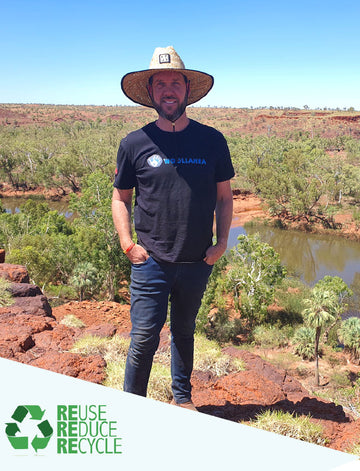 CARING FOR COUNTRY
Country is a word that holds many different meanings for First Nations peoples, especially given the diversity of First Nations across the continent. But there are certain concepts and ideas about Country that many First Nations people share. For instance: Country is alive. Country is timeless. And Country is us.
Country is a proper noun, which is why it is usually capitalised. We often refer to Country in the same way we would a person. For example, Country is sick. Listen to Country.
Country needs time to heal. Country encompasses land, waterways, seas, and skies, as well as the energy and space in between. It also encompasses relationships. Relationships with plants, relationships with animals and relationships with Ancestors (to name a few).
First Nations relationships within Country are grounded in reciprocity.
Reciprocity is about mutual respect and exchange. For First Nations people and Country, it is about keeping balance. We take only what is needed, so natural resources are never exhausted. When we do need something from Country, like a bush medicine or drinking water, we make sure we are adding value in other ways, like cultural burning or through traditional ceremony.

So, while Country is place, it is also relationship. It is because of this deep relationship, that when Country is disrespected, First Nations people and wellbeing are impacted deeply.

As a 100% Indigenous Owned Business, Woollahra's values towards "Caring for Country" represent our commitment to building a more sustainable future for all Australians.

Woollahra Group recognises and supports the Western Australian Government's Plan for Plastics and through our actions as a supplier and distributor of Cleaning & Janitorial supplies, we are committed to delivering on the roadmap towards a more sustainable, plastic free, WA.

As per the WA Government Roadmap, Woollahra Group is committed to the plan regarding promoting actions that:

- Prioritise avoiding single-use plastics
- Replace single-use items with reusable alternatives wherever possible
- Promote non-plastic single-use alternatives that can be recovered, recycled, or composted, if it is not possible to use reusable items
- Minimise litter or contamination of waste treatment facilities by not using single-use plastics

Woollahra already has extensive experience in working with customers to reduce plastic packaging waste.

Woollahra's core customer base is Tier 1 Mining & Facilities Maintenance Companies who operate with stringent guidelines in relation to sustainability and environmentally friendly outcomes.

Key customers such as Fortescue Metals Group are leading government and industries in the implementation of Plastic Free Workplaces and Woollahra has been able to adapt and provide plastic free or sustainable alternatives to each of our customers' requirements.
Woollahra Group
SUSTAINABILITY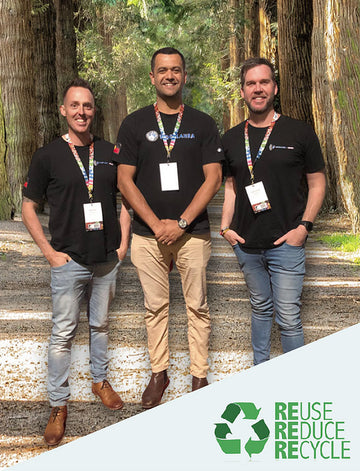 WOOLLAHRA's BOTTLE RECYCLING PROGRAM SAVES OVER 7,500 KG OF PLASTIC WASTER PER ANNUM!
At Woollahra, minimising waste contributions to landfill is important to us as part of our commitment to the environment andour impact on it as a community. We sell cleaning products into a range of sectors and the safest way to transport theseproducts is in plastic drums which can have a negative impact within waste streams unless it is systemised with a responsibleattitude and want by all parties involved in the chain.
Our recycling program has proven successful over the last 6 years with keeping drums and more importantly, residual chemical left in containers out of landfill.
Chemical containers of any description can still retain up to 100mls of fluid even when empty (50 of any type of container with 100ml of residual product is 5 litres of chemical in the ground, this in turn over the long life of a mining lease can result in 1000's of litres of residual harm) and these contaminates can contain sulphates, phosphates and even worse compounds and trying to keep these residuals out of the ground is one of our mission aims.
How Does it Work?
Our recycling program works with the cleaning products for laundries, commercial kitchens and janitorial departments to perform necessary duties for small communities and villages. Once the chemical has been utilised and the drum is empty, these used drums are palletised and sent back to Surekleen Products in Malaga where the drums are cleaned, checked for integrity, re-filled and re-labelled before being returned to circulation, thereby taking the drum and its residual contents out of the waste stream cycle.
The residual chemical washed out of these drums in Malaga, is then neutralised and disposed of in accordance with Water Corp regulations. The drums have a finite life of productive use and at the end of its cycle when it is deemed to be retired, it is once again returned to Surekleen, washed, and sent to Claw Environmental for proper recycling where the item is conveyed into a plastics chipper and retained as highquality plastic to be made into drums once more or other useful products. And so, the cycle continues...
Woollahra currently supplies over 9000 drums of 10L+ Chemicals throughout our supply chain to the mining and facilities maintenance industry. Our packaging return rate on 10L+ chemical drums is 80%. The weight of 1 empty plastic chemical drum is approximately 1kg. Therefore, annually, Woollahra is removing a minimum of 7,500kg of Plastic Waste from the supply chain that would otherwise have ended up in landfill.
Through the partnership with CLAW Environmental we have ensured that once the drums do reach the end of their usable lifetime, they are broken down and recycled rather than added to landfill. Plastic drums that are out of service are cleaned and rinsed of any residual chemicals before being transported to CLAW Environmental in Welshpool.
CLAW Environmental shreds and chips the plastic drums, processing them so they can eventually be turned into high quality recycled plastic goods. This means that the lifecycle for the plastic drums used by Woollahra is now open ended, they will return to the marketplace in the form of plastic products and hopefully, be recycled again in the future.
Woollahra Group
SUSTAINABILITY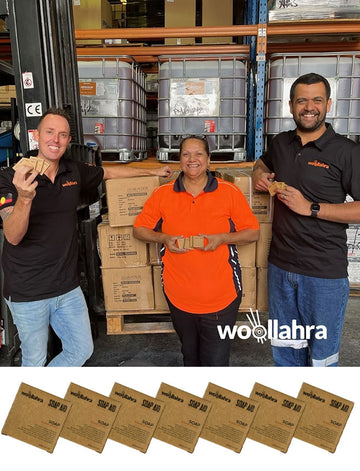 JOIN US ON OUR MISSION TO ERADICATE BAR SOAP WASTE FROM THE MINING INDUSTRY!
Every year, millions of units of Bar Soap are distributed to Mining Camps throughout Western Australia for use by Fly-in-Fly-out staff in the Mining Industry. Woollahra has developed the perfect-sized, 20g bar soap for the 8-6 FIFO workers roster, packaged in a sustainable, recycled cardboard box. While addressing the sustainability of packaging and reducing waste, we also had a thought;
What if we could not just reduce bar soap waste, what if we could remove it entirely?
We did our research and found Soap Aid, a charitable organisation that takes used cakes of soap, recycles and purifies the waste soap and gram for gram creates brand new bars of soap that are then distributed to communities that don't have access to basic hygiene solutions. Together, we are on a mission to eradicate bar soap waste from the mining industry & positively change the hygiene situation for vulnerable Indigenous Communities!
HOW THE WOOLLAHRA X SOAP AID PROGRAM WORKS
WOOLLAHRA SUPPLIES SOAP AID PRODUCT TO SITE/ VILLAGE
SITE FACILITIES MAINTENANCE PROVIDER (FM) DISTRIBUTE WOOLAHRA & SOAP AID PRODUCT TO STAFF IN ACCOMMODATION
STAFF USE SOAP & LEAVE WASTE IN ACCOMMODATION
FM CLEANERS COLLECT SOAP WASTE ON SPECIALLY DESIGNED SOAP AID COLLECTION TUBS ON CLEANING TROLLEYS
FM CO's RETURN SOAP WASTE TO WOOLLAHRA WAREHOUSE IN PERTH
SOAP AID COLLECT SOAP WASTE FROM WOOLLAHRA WAREHOUSE & TRANSPORT TO SOAP RECYCLING FACTORY
SOAP IS RECYCLED & NEW SOAP AID BARS ARE DEVELOPED FOR DONATION
SOAP AID BARS ARE DISTRIBUTED TO REMOTE INDIGENOUS COMMUNITIES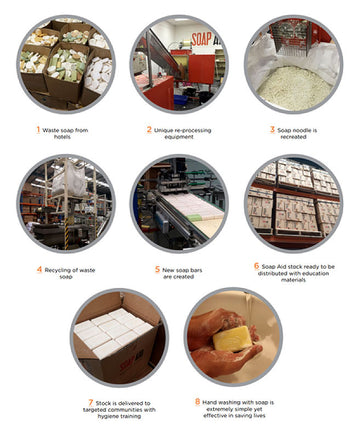 Partnering with Woollahra & Soap Aid on our Bar Soap Recycling Program
has the capacity to create significant and sustainable change within the Mining Industry. Every year, millions of single use Bar Soaps needlessly enter landfill. This program has the potential to eradicate waste and provide much needed hygiene solutions for remote Indigenous communities..."
Woollahra Group
HEALTH & SAFETY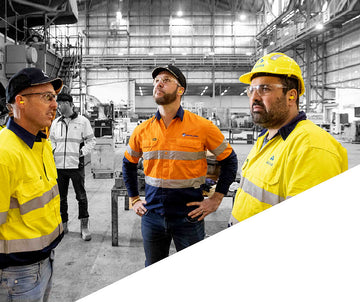 Health & Safety Capability
"As a manufacturing, distribution, and logistics business, Woollahra Group is committed to ensuring the health and safety of its employees, contractors, visitors, and the wider community. We recognize that our operations can pose various health and safety hazards, and we are dedicated to mitigating these risks through a range of measures."
This Health & Safety Capability tatement outlines our approach to health and safety and provides an overview of our policies,procedures, and practices.
Policy and Procedures:
At Woollahra Group, we have established a comprehensive health and safety policy that sets out our commitment to maintaining a safe and healthy workplace. Our policy outlines our responsibilities to comply with all relevant health and safety legislation and regulations, and it is regularly reviewed and updated to ensure it remains current. We also have a range of procedures in place to manage specific health and safety risks. For example, our hazard identification and risk assessment procedures ensure that potential hazards are identified and assessed, and appropriate control measures are implemented to reduce risks. Our incident reporting and investigation procedures enable us to identify the root causes of incidents and take corrective action to prevent similar incidents from occurring in the future.
Training and Education:
We understand the importance of providing our employees, contractors, and visitors with the necessary training and education to work safely. We provide induction training to all new employees and contractors to ensure they are familiar with our health and safety policies and procedures. We also provide regular training on specific topics, such as manual handling, working at heights, and hazardous substances. In addition to training, we also provide education on health and safety through our communication channels, including newsletters, intranet, and noticeboards. We encourage employees to raise health and safety concerns or suggestions through these channels, and we actively seek feedback to continually improve our health and safety practices.
Risk Management:
Managing risks is a critical aspect of our health and safety approach. We have a range of measures in place to manage risks, including:
Conducting regular workplace inspections to identify potential hazards
Ensuring that all employees and contractors have the necessary personal protective equipment (PPE) to work safely
Regularly reviewing and updating our hazard identification and risk assessment procedures
Implementing controls to reduce or eliminate risks, such as engineering controls, administrative controls, and PPE
Ensuring that all incidents are reported, investigated, and corrective actions are taken to prevent reoccurrence
Continuous Improvement:
We are committed to continuous improvement in our health and safety practices. We regularly review our policies, procedures, and practices to ensure they are effective in managing risks and complying with relevant legislation and regulations. We also seek feedback from our employees, contractors, and visitors to identify areas for improvement. We monitor our health and safety performance through a range of measures, such as incident statistics, hazard identification, and risk assessments. We use this information to identify trends and opportunities for improvement and take corrective actions where necessary.
Conclusion:
At Woollahra Group, health and safety is a core value that underpins everything we do. We are committed to ensuring that all employees, contractors, visitors, and the wider community are safe and healthy while interacting with our operations. We have established comprehensive policies, procedures, and practices to manage risks and comply with relevant legislation and regulations. We provide our employees, contractors, and visitors with the necessary training and education to work safely, and we continually seek feedback and opportunities for improvement. We believe that a strong health and safety culture is essential for the long-term success of our business, and we are dedicated to maintaining it.
Woollahra Group
DIVERSITY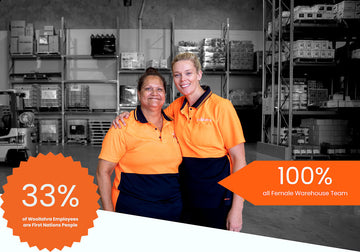 We are committed to building a diverse and inclusive workplace
At Woollahra Group, we are committed to building a diverse and inclusive workplace that values and respects differences in race, ethnicity, gender, sexual orientation, age, religion, and physical ability.
We believe that embracing diversity brings a wealth of different perspectives and experiences, which ultimately leads to better decision-making, innovation, and growth. We are dedicated to creating a workplace culture that supports and celebrates diversity in all its forms. We are proud of our commitment to diversity and inclusion, and we recognize that it is an ongoing journey.
We will continue to work towards creating a workplace that reflects the diversity of the communities we serve and that fosters an environment where everyone feels valued and respected.
We believe that by embracing diversity, we will continue to grow and thrive as a company, and we look forward to the many opportunities that lie ahead.
Pictured: Members of Woollahra's all female Warehouse Team.
(L) Warehouse Team Member - Carmel Councillor
(R) Warehouse Manager - Charlie Smith
Woollahra Group
MODERN SLAVERY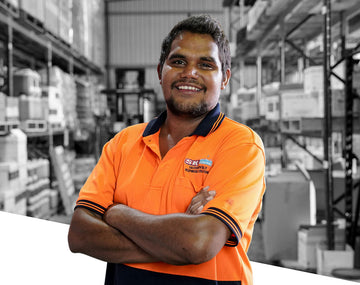 RECOGNITION OF THE MODERN SLAVERY ACT 2018
The Company has a zero-tolerance approach towards Modern Slavery. Modern Slavery refers to any situations where violence, threats, coercion or deception are used to exploit other people for personal or commercial benefits.
The Company recognises the Modern Slavery Act 2018 (the Act) and undertakes practices to adhere to this within the business and within its supply chain. The Company will take meaningful action to ensure its conduct is aligned to the Act, and will take reasonable steps to address any breaches of this Act within the business.
Human Rights:
All Employees shall be treated with dignity and shall not be subjected to suffer any harassment, physical or mental punishment or other forms of abuse. The Company promotes effective employee engagement throughout our operations and welcome open sincere feedback from employees on all matters of the company's business interest. The Company employs a grievance policy, which is transparent, equitable and predictable to enable the remediation of any abuse of human rights and its impacts that may arise in its operations.
Child Labour:
The Company is committed to ensuring compliance with all employment law requirements with respect to those who are under the age of 18. The business will endeavour to include the child's parent or legal guardian with respect to any employment management processes.
Forced Labour:
The Company does not engage in or support the use of forced or compulsory labour, or bonded/involuntary prison labour. Employees are free to leave at any time, but are expected to provide reasonable notice in line with their individual contracts of employment or industrial instrument. All employees provide their services to the Company on an entirely voluntary basis and no one shall be forced to remain in their employment against their will.